A 2013 Los Santos Sheriff's Department Chevrolet Caprice PPV.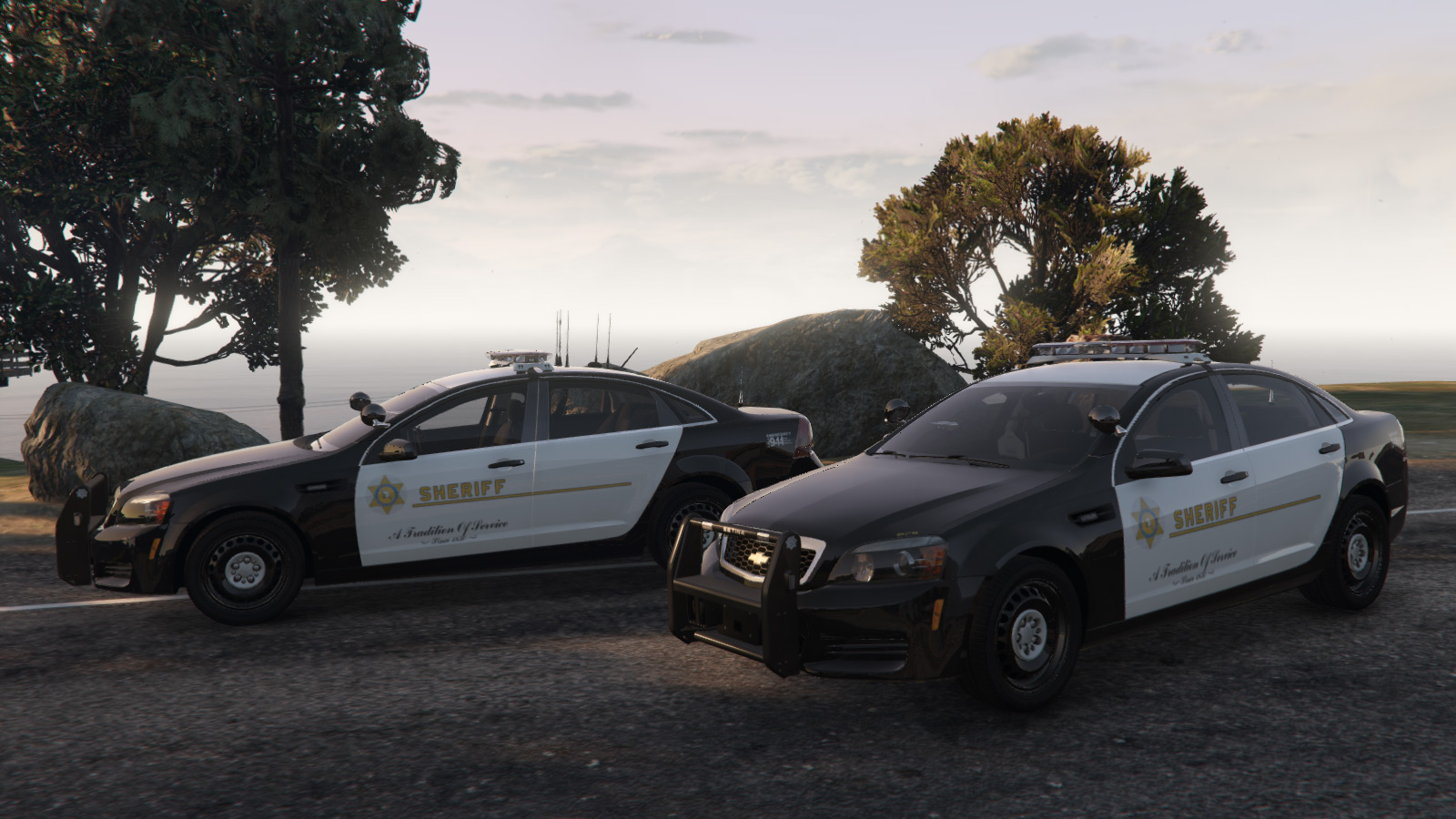 Lighting Stages Preview

Optimized for: Sheriff
Lightbar: Federal Signal Arjent S2
Multiple Liveries: Yes
Additional Notes
This mod requires ELS-V (Emergency Light System) version 1.05 to work properly.
You are required to install the carvariations.meta entry supplied with this download as per the above instructions; not doing so will cause the model to spawn with the incorrect body colours.
Terms of use
You may:
Replace or edit textures for personal use.

Create and redistribute liveries of your own using the provided template.
You may not:
Circumvent any protecting measures to edit models.

Use any of the work included in this archive for your own financial gain.

Redistribute or re-upload this archive and its contents on any other website other than accuratestudio.com without permission.
Files Included
sheriff.yft
sheriff.ytd
sheriff_hi.yft
sheriff+hi.ytd
carvariations.txt
sheriff.xml
Readme
Template
Pictures
- Original vehicle model is Pontiac G8 from Forza, edited into the 2013 Chevrolet Caprice PPV by Kane104. Model assembled with contributions from EVI in the form of a scratch modeled front bumper and bonnet, whilst all other model edits such as the rear end and interior were performed by Kane104.
- Federal Signal Arjent S2 lightbar, interior console, LoJack, gun racks, antennas, Federal Signal ES100 siren speaker, template, rims, interior texture edits, and MDCS texture by Kane104
- Liveries, ELS lighting stages, and configuration files by Cj24
- Spotlights, Panasonic Toughbook, Setina rambar, and M4 rifle by Ridgerunner
- Federal Signal Smart Siren controller(mapped to textures by Ridgerunner), Motorola radio, and Setina partition by EVI
Display Credits
Installation Instructions
Use OpenIV to add the sheriff.ytf, sheriff.ytd, sheriff_hi.yft and sheriff+hi.ytd files to GTAV\update\x64\dlcpacks\patchday13ng\dlc.rpf\x64\levels\gta5\vehicles.rpf.

Open Config Files\carvariations.txt with any text editor and copy the complete content. Export GTAV\update\x64\dlcpacks\mpchristmas2\dlc.rpf\common\data\carvariations.meta using OpenIV, open it with any text editor, create a new line after <variationData> and paste the previously copied content. Replace the original carvariations.meta with the edited one.

Copy the Config Files\sheriff.xml file and paste it into GTAV\ELS\pack_default. If you use a custom pack, add it to its folder.

To install the car in a different slot, change the names of the .yft, .ytd and .xml files and the <modelName> value of the carvariations settings respectively.

Optionally, if you don't use any light enhancing mods, replace GTAV\update\update.rpf\common\data\visualsettings.dat with Config Files\visualsettings.dat using OpenIV.
Display Installation Instructions