I've recently started working on LSPD 2016 Ford Police Interceptor Utilities with Kane104's base model. I'm working on the marked and the unmarked FPIU, I'll try to make both as close to the real LAPD versions as possible.
The skin for the marked version should be complete:
Newer pic of the marked FPIU: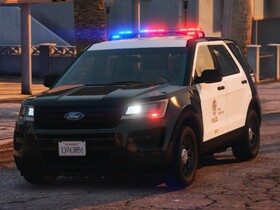 Currently, I'm working on the unmarked version, here's a first picture: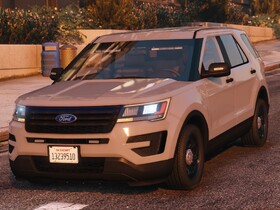 I'm working on the emissives right now, the unmarked car will be a hybrid using ELS for most lights in order to get proper light stages and non-ELS for some lights at stage 3. I'll need to use default lights to make the mirror lights work properly, but I generally prefer using ELS for the light stages. I'm not sure if I'll use default lights for the Spectralux interior lightbar, as it allow me to get the pattern closer to the real car, however, I would have to update the Charger and the Caprice as well to have the same setup.