(2.3 Update!) Transit Police FPIS [DLS and non-ELS]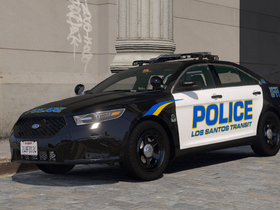 Ford Police Interceptor Sedan for the Los Santos Transit Police featuring the Federal Signal Valor lightbar
Features:
- All Blue or Red and Blue lighting (you choose!)
- SP Addon, SP Replace, or FiveM Ready files (you choose!)
- Optional rambar, EZ Pass
- Enhanced environmental lighting
- Ability to flip spot lamps up and down
- Reflective livery
Credits:
- See the attached credits.txt file (they appeared too messy to include in the post)
Terms of use:
- Don't rip, don't reupload, don't claim as your own.
------------------------
Join my Discord server!
------------------------
Update 2.3:
- Revised base model with improvements to accuracy, performance, and in-game appearance (big thanks to KLE0 and AgentDZN for their contributions)
- Revised spot lamp emissive texture
- Optimised textures for quality and performance
- Replaced siren speaker mount with a different mount
- Note: Update 2.3 for the Red and Blue version is in progress and should be released shortly. Thank you for your patience!