Motorola Antennas Version - Version 1.1
A pack of three Motorola antennas commonly used on police cars, fire trucks, ambulances and other vehicles. Optimized models with a low resolution texture.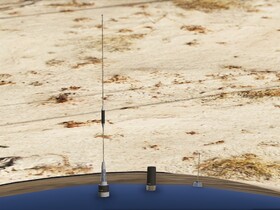 Credits
Motorola antennas modeled and textured by Cj24.
Notes
Accurately scaled to real dimensions.
LOD polygon count:
- HAE6010A: L0 268, L1 78, L2 38, L3 15
- HAE6016A: L0 106, L1 38, L2 18, L3 7
- HAE6020A: L0 158, L1 38, L2 20, L3 10
Changelog

Version 1.1 - 2021-07-15

Terms of use
You may modify this modification and redistribute your edited work provided that correct credits are given. Unlocked versions of this modification may only be redistributed if you include a link to the original download.
You may not convert this model to other games or platforms.