Those of you who use default cars might have noticed that the grill lights of the FIB Buffalo were always on. While the emissive material was barely noticeable in-game by default during day time, you could see it at night. Now with mods like RadianceV, which increase the brightness of all lights, it's very noticeable.
Surprisingly, it seems like nobody else has yet fixed that, so I decided to quickly do it myself. I also took the opportunity and scaled down the grill lights and edited the textures to replace the original red/blue glass with white glass.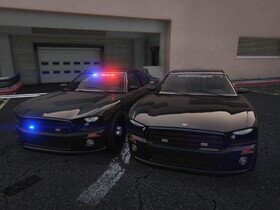 Credits
Model made by Rockstar Games, slightly edited by Cj24.
Installation Instructions
Use OpenIV to import the fbi.yft, fbi.ytd and fbi_hi.yft files into \x64e.rpf\levels\gta5\vehicles.rpf.